About The Cool Cast Company
The Story Behind Cast Critters
The Cool Cast Company started with a dedicated and passionate individual named Maureen Jurgelas. Maureen had a vision to help children who had been injured or who were ill by providing an animal friend to help them cope with the painful and unexpected experience of a broken limb or illness that requires a PICC line, IV, or infusion therapy. Maureen knew from firsthand experience that having a broken limb as a child is upsetting. She also knows that animals can change lives with uplifting and friendly vibes. With that knowledge, she set out to start The Cool Cast Co.
Maureen combined her two passions – helping children and supporting animals – and created cast covers shaped like a variety of animal friends to help children cope with healing. The cast covers are called Cast Critters.
Today, The Cool Cast Co.'s dedicated crew continues to provide loving and supportive animal friends to children across the United States. And, to give back to the animals that give so much, The Cool Cast Co. partners with Canine Assistants and donates 10% of the proceeds of every purchase to them.
The Cool Cast Company's love and appreciation for how much animals do for us everyday shines through in each animal friend delivered to your doorstep. We know you'll love them as much as we do as they help your little one heal.
About The Cool Cast Company's Partnership with Canine Assistants –
Our Mission to Give Back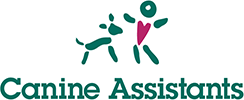 We firmly believe that animals change lives with unmatched love, support, and loyalty. That's why we've committed to donating 10% of our proceeds from every Critter sold to Canine Assistants, a non-profit organization that is dedicated to "educating dogs and the people who need them so they may improve the lives of one another." Canine Assistants places service dogs free of charge with people who have mobility difficulties, seizure disorders, and other special needs. 
Canine Assistants is so close to Maureen's heart at the Cool Cast Co. because she has been a volunteer trainer with them for eight years. She also has a canine assistant dog who lives with her and her family to assist her special needs family member. She has seen firsthand how much of a difference a canine assistant makes in someone's life who needs them, and Maureen is determined to help support the dogs and the amazing work Canine Assistants does.
Learn More About Canine Assistants
Donate Directly to Canine Assistants
We believe it is important to support the animals who give us so much and the people who need their assistance. The amazing partnership between these service dogs and the people who need them is just like when a child needs support from one of our Cast Critters. Canine Assistants and The Cool Cast Company are there for loving animals and the people who need their support. 
Give Back
With every purchase, you help a child through a traumatic experience, support service dog teaching and education, and help people who need the support of service dogs.
About The Cool Cast Company's Dedication to Safety and Quality
At The Cool Cast Company, our passion and dedication extend beyond helping children and animals to the safety and quality of our cool Cast Critters. We know you care about what you give your children, and we care too.
Our cool Cast Critters are tested and approved for safety by SGS, the world's leading inspection, verification, testing, and certification company, and are safe for children ages three and up. They are also ASTM Safety Certified accessories designed to help kids cope when they need a PICC line, IV, or infusion therapy. They are durable and can withstand the exploration and fun your children are sure to have when hanging with their cool Cast Critter.
Some additional convenient features that parents love about our Cast Critters include:
We've spent a lot of time testing and perfecting our cool Cast Critters so your little ones can love them for a long time. Explore our Critters today to help a child through a tough experience, support service animals, and assist people who need service dogs!
Did a Cast Critter make your little one feel super again? Let us know by telling us your experience!